E by Nescafe or Nescafe E Smart Coffee Maker Review Nescafe, a Nestle owned company, was introduced in 1938. Since then they are serving many countries like United States, Canada, India etc. with their coffee. Not just selling they coffee they got into coffee brewing...
With today's mobile technology nothing feels impossible. Every technology is getting better and smaller. Computers and mobile devices are becoming powerful and efficient. The phone in your pocket is 10x faster than the computers I used for the first time. Not know about tomorrow, but...
Great news for YouTubers, if you were looking for the best video-editing software for their videos. Adobe launched the Premiere Rush CC that will change the video editing game from now. Till now it is available only for Desktop and IOS, and it will...
There is a fantastic news for Fortnite lovers. As game available to download for all type of android devices moreover there is no requirement to invite too. First, check the compatibility of your Android device by visiting this page and the game installer. Game files...
Congratulations to all Oneplus lovers as Oneplus 6T finally got a confirmed launch date but till now there is no details about the phone. Stay updated as the company will be unveiling the device on October 30 and launch on November 6. OnePlus has...
Last year, Samsung said that there will be a releasing of foldable smartphones in early 2018. And, in early 2018 the news came out that these mobiles would not release until 2019. After that Samsung said they are planning to launch it in November...
Good news, Intel announced a slight superficial knowledge of new processors on Monday with multiple product segments.These will work flawlessly for Gamers, Professional content creators who need beast performance for their work and this wish will come true in a couple of months.I am...
In August's IFA event, 8k was a new trendsetter word for everyone. The big giants of the electronics world like Sony, LG, Sharp and more. They all presented the featured an incredibly high-resolution TVs, but Samsung was the only contender who presented the Q900R...
These days it very common with smartphones that they are unavoidable when the launch date comes near and the more rumours and leaks they get. And Google Pixel 3 is no Exception. So Let's talk about upcoming Google Pixel 3 series. It will be...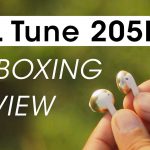 Here is our review and unboxing of the JBL Tune 205BT ( JBL T205BT) wireless earphones. You can watch the above video, or if you are a reading person, then you can read our review below. JBL - a parent company of Harman, launched their...